Training
BCG provides a variety of training options for DLAN system users and administrators. BCG trainers are not just experts in the technical aspects of the system, but also in its applications in emergency management, healthcare, and academic settings. Depending upon customer needs, training programs can include developing unique training curricula and materials for each customer, creating product integrated online help systems, and conducting web-based, computer-based, and instructor-led trainings.
Initial System Training
BCG strives to provide a user interface that is simple and intuitive enough that users can interact successfully with the system with very little training. Initial System Training typically includes a three step process designed to teach administrators and users all they need to know in order to begin using the system effectively: system configuration training, administrator training, and user training. Training format includes a mixture of lecture and hands-on activities where students perform operations and exchange data with others using the DLAN software.
System Configuration Training
BCG typically conducts configuration training for key individuals and decision makers. BCG works together with the customer in order to establish a knowledge base for how the customer currently operates with their existing software or paper-based process. BCG presents suggestions for how DLAN can fit into the customer's technical and business environment in either a supplementary manner or as a replacement tool for specific processes and workflows. Once this is established, BCG and the customer will work together to tweak and customize the DLAN system's features and toolset to match the customer's needs and fit their operations in the best possible fashion. Configuration training also includes instruction for customer system administrators on how to manage overall system settings and populate any preliminary data such as incident categories, statuses, priorities, incoming weather and news feeds, user accounts, and security group permissions.
Administration Training
Administrative training is designed to teach power users and DLAN administrators how to take advantage of some of the more advanced and powerful features in the DLAN system. Some topics include Ticket Manager Custom Report Generator, IAP administration and publishing, Situation Report administration and publishing, Status Board building and content management, Communications Center Interoperable message exchange (Email, CAP, EDXL, MASAS, and IPAWS), user management, and password resets.
User Training
End User Training is designed to familiarize staff members with the basic features and tools available to them in DLAN. Additionally, it will show users how to use the system to perform their emergency management role more effectively in a digital operations center environment. BCG recommends breaking the users up into multiple classes of 25 or fewer individuals and assigning each a 2-6 hour class time. However, End User training duration is flexible and BCG often modifies lessons to fit a variety of schedules. BCG also recommends that customers have an administrator or key individual attend that can answer policy and organization specific questions.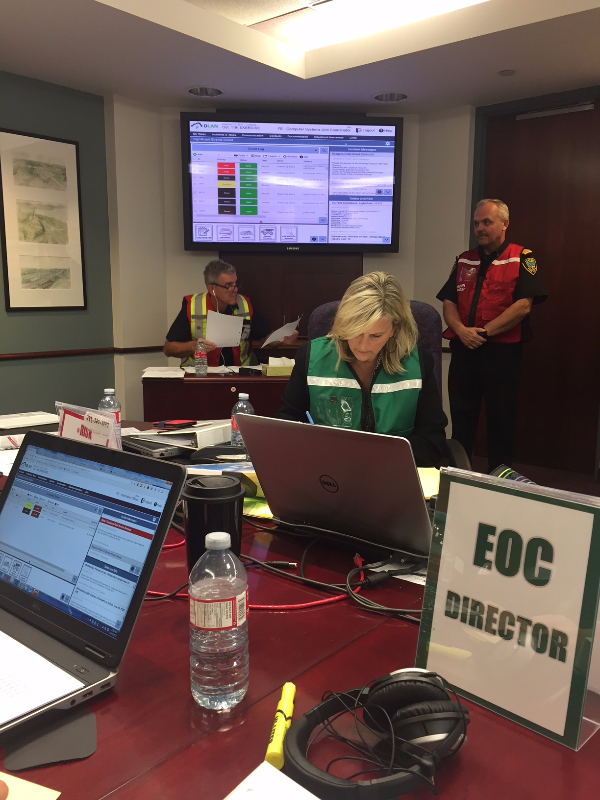 DLAN Exercise & User Training
Refresher Training
BCG routinely provides webinars, conference calls, remote assistance sessions, and new release reviews to customers' DLAN administrators. Customers with a current maintenance and support contract with BCG receive these online services at no extra charge. BCG also provides how-to guides, white papers, case studies, and other useful information through our DLAN Newsletter.
DLAN also contains a built-in online help application that includes more than 350 context sensitive user articles and tutorial videos. The articles can be viewed from within DLAN, printed, or published as a user manual. BCG updates article content for every major and minor release version so that materials are always up-to-date.
BCG can also provide additional on premise or web based DLAN training including:
one-on-one coaching
train the trainer

custom

training scenarios
custom training topics
custom quick reference guides

custom

training videos
Role-based Skill Builder Trainings
BCG offers role-based, hands-on trainings that guide users through the basics of performing their job duties within the DLAN software. Typically, these are short duration, focused trainings and multiple skill builders can be completed during one training session. A BCG instructor will demonstrate how to perform a common task, such as create a Situation Report document, and then students will be divided into groups and will work through the process of performing that task with supervision and input from the BCG trainer. Skills are evaluated based on simple quiz questions and the final outcome of skills activities.
(Call Taker) Ticket Skill Builder

Learn the basics of ticket entry according to your organization's procedures (Set Status, Priority, and Routings; Complete Forms and Contacts).

(Operations) Ticket Information Manager Skill Builder

Learn how to triage new tickets, re-route tickets, manage missions, review statistics, check for neglected tickets, and build ticket reports.

(Logistics) Resource and Asset Management Skill Builder

Learn how to prep stockpile resources and associate them to vendors or organizations. Learn how to take a resource request ticket from start to finish using the Find Match functionality. Manage deployed assets and associate them to tickets with the asset ledger tool.

(Planning) Situation Report Skill Builder

Learn how to build a reporting period, assign agency report templates to roles, review and approve published agency reports, publish the final Situation Report, and distribute the Sit Rep document.

(Planning) Incident Action Plan Skill Builder

Learn how to create an Action Plan and manage ICS forms that are included in the IAP.

(Finance) Finance Reports Skill Builder

Learn how to track finances and spend levels for tickets, missions, and incidents. Learn how to manage the incident ledger, track promised payments and assign finance items to worksheets for submission to FEMA.
Module Administration Trainings
Ticket Administration

Learn how to create workflows with statuses and auto-routings, build custom ticket reports, and design dynamic ticket forms for data collection.

Communication Center Administration

Learn how to manage email, media monitoring (RSS & Twitter), and posting settings.

GIS Administration

Learn how to manage basemap services, overlay services (layers), geocoder services, GIS icon symbols, auto-recorded map screenshots, and map reports.

Phonebook & Reference Library Administration

Learn how to manage default values for organization and personnel information, and generate printed phonebooks and phonebook reports.

Situation Report Template Administration

Create and manage templates, assign templates to roles, build multi-tiered "roll-up" templates, and prepare guided default text for users.

Status Board Administration

Manage subscription data, create panels, and build boards for roles, sections, or specific purposes.
Custom Topic or Scenario Trainings
BCG can craft custom training courses comprised of a customer's choice of applicable scenarios, topics, features, or modules. Custom trainings typically are designed to fit a 2, 4, or 8 hour training timeframe.
Emergency Just-In-Time Trainings
BCG is happy to work with our customers in order to provide additional onsite "just-in-time" trainings and system support during exercises, drills, and emergency activations. BCG can also provide qualified and experienced incident management teams and support staff during activations. Please contact BCG for additional information and pricing.
Additional Training
In conjunction with our business partners, BCG is able to offer a range of additional training services including:
All hazards training including hands-on, tabletop, & full-scale exercises
All hazards incident management team training and team building
Emergency Operations Center (EOC) training
Incident Command System (ICS) training
Intrastate - Interstate - International mutual-aid planning and training