iAlertz Mobile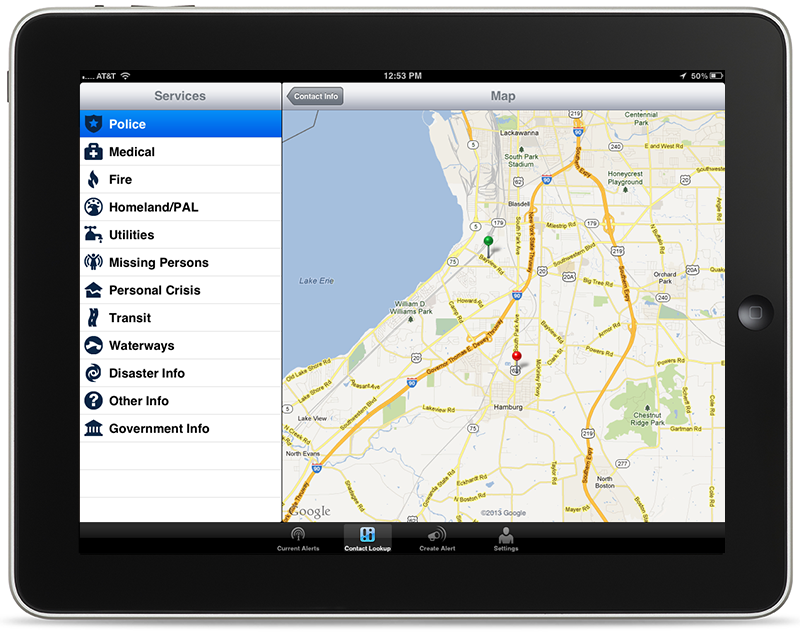 iAlertz is a part of BCG Mass Notification System. It is free and runs on iOS devices such as the iPhone and iPad (Android and Windows Mobile versions of iAlertz will be available soon). By installing this application to a mobile device, users can receive information on currently active alerts, find and contact service agencies (such as the nearest hospital, police, fire, or EMS agency), and even generate alerts for distribution to the general public (if they are an authorized notifier).
+Read More
Mass Notification Solutions
Buffalo Computer Graphics can create a custom mass notification system to meet the needs of both public and private sector organizations of any size. Currently BCG provides Mass Notification solutions to New York State, Vermont, Rochester Minnesota, the US Virgin Islands, over 100 NYS Universities, and numerous NYS high schools and elementary schools.
All BCG systems are ADA compliant, 100% web-based, and allow the organization to import 911 data. The public can sign up for notifications online or on their mobile device with the iAlertz app, which can also be used by message creators to send messages. A variety of alert types are available including Amber Alerts, OOP Alert, and Sex Offender Alerts. Message creators have the ability to use alerting API, create custom notification groups, import user notification groups, automate alert distribution, and distribute alerts based on Mapping data.
BCG mass notification systems have several features to make phone notification more effective including multiple retires, throttling (which limits the number of simultaneous phone calls made to an exchange so as not to overwhelm the system), dynamic line distribution, the ability to detect and leave voicemail, and allowing organization to set up custom greetings and Caller IDs.
In addition to traditional phone lines BCG can also send notifications through:
Reverse 911
SMS
EAS
MMS
Fax
Email
IPAWS
Alpha Pagers
RSS Feeds
Social Media
Please contact BCG to discuss your project requirements and see how we can help you craft a mass notification solution to meet your needs.