BCG Named to Top Simulation and Training Companies
Wednesday, September 28th, 2016

For the third straight year, Buffalo Computer Graphics (BCG) Inc. has been named to Military Training International's (MTI) "Top Simulation and Training Companies" List.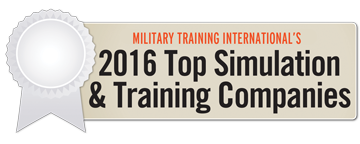 Military Training International's 2016 "Top Simulation & Training Companies" List features organizations from around the world that have made a significant impact on the military training industry across the spectrum of technologies and services. The myriad of products or services these companies offer allow U.S. Sailors, Soldiers, Marines, Airmen, and Coast Guardsmen to train and rehearse for missions in the field, at formal training sessions, or to prepare for deployment at home station.
BCG, as well as the other award winners, are listed in the September issue of MTI, which can be read online at http://www.mti-dhp.com/topcompanies/.
For additional information BCG and our COTS or custom simulation product, please contact BCG at 716-822-8668 or through our website -www.bcgeng.com.