DisasterLAN Will Help Ride For Roswell Staff Run a Safe and Successful Event
published on Tuesday, June 24th, 2014

Buffalo, NY - June, 24 2014 - When 8,000 riders, 2,000 volunteers, and hundreds of bystanders hit the streets of Buffalo, serious logistical and safety issues need be considered. This year Buffalo Computer Graphics (BCG) will be working with coordinators to help manage these concerns to create a safe and successful event.
BCG is the manufacturer of DisasterLAN (DLAN), which is a web-based software product used throughout New York State and within Erie County to manage both emergency and planned events. This year's Ride For Roswell staff will be trained on and given access to this software to help manage The Ride.
Bryan Sidorowicz, Director of The Ride For Roswell, notes "The Ride For Roswell spans 350 miles in four counties and fourteen jurisdictions. As the largest single-day cycling fundraiser in North America, The Ride For Roswell is responsible for the safety of over 10,000 participants and supporters, so a comprehensive call management system is imperative and of utmost priority. We look forward to implementing DLAN this year to coordinate our event communication and incident action planning."
DLAN will be used to manage any issues that might arise, from flat tires to injuries. For example, a rider may request transportation after becoming too tired to finish the ride. The Call Taker can create a ticket with this request and send it to a Route Manager, who will assign a volunteer to pick up the rider. By creating a coordinated workflow, staff and other resources can be used efficiently and sent to where they are needed most.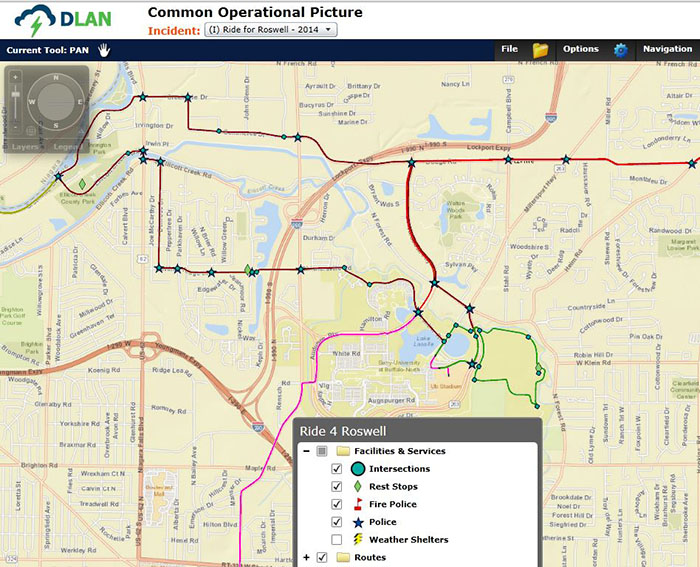 DLAN's mapping tools will also be used to allow coordinators to visualize all routes and evaluate any potential problems, including inclement weather. In addition, coordinators will be utilizing NY-Alert, created by BCG, for mass notifications to staff and riders during the event.
The Ride For Roswell will be held June 27th & 28th. The Ride has raised nearly $25 million for Roswell Park Cancer Institute over the past 18 years. Last year alone, more than 8,000 riders and 2,000 volunteers helped raise $4 million for cancer research and patient care programs at RPCI.
Buffalo Computer Graphics (BCG) is a global provider of Incident Management Software, Mass Notification Systems, Maritime Training Solutions, and Custom Hardware & Software Engineering.