Polk County, Iowa Now Sharing DLAN Incident Management System with Surrounding Counties
Wednesday, November 16th, 2016

Polk County, Iowa, has recently granted surrounding counties access to their DisasterLAN (DLAN) Incident Management Information System to utilize in the event of an emergency. The shared system will allow Polk and nearby counties to better share resources and coordinate multi-county emergency responses, and will provide greater situational awareness to key personnel throughout the region.
Since DLAN allows for multi-agency use without additional licenses, counties surrounding Polk, including Madison County and Warren County, are able to log into the system in order to coordinate emergency preparation, response and recovery. By having access to one common operational picture, emergency managers and other officials are given the information necessary to quickly make decisions that affect not just their own counties, but the entire region. Such information is especially important as many events do not recognize county boundaries, including weather related disasters.
In the event of emergencies when resources are in high demand or limited supply, emergency managers across the region will be able to use DLAN to search for the resources they need in nearby counties. Personnel can then request and receive requests for a resource directly through the system. This allows Polk, Madison, Warren, and other counties to share vital resources amongst one another, rather than being limited to the resources in their own counties. Counties will also be able to maintain personnel and organization records to easily find contact information when needed.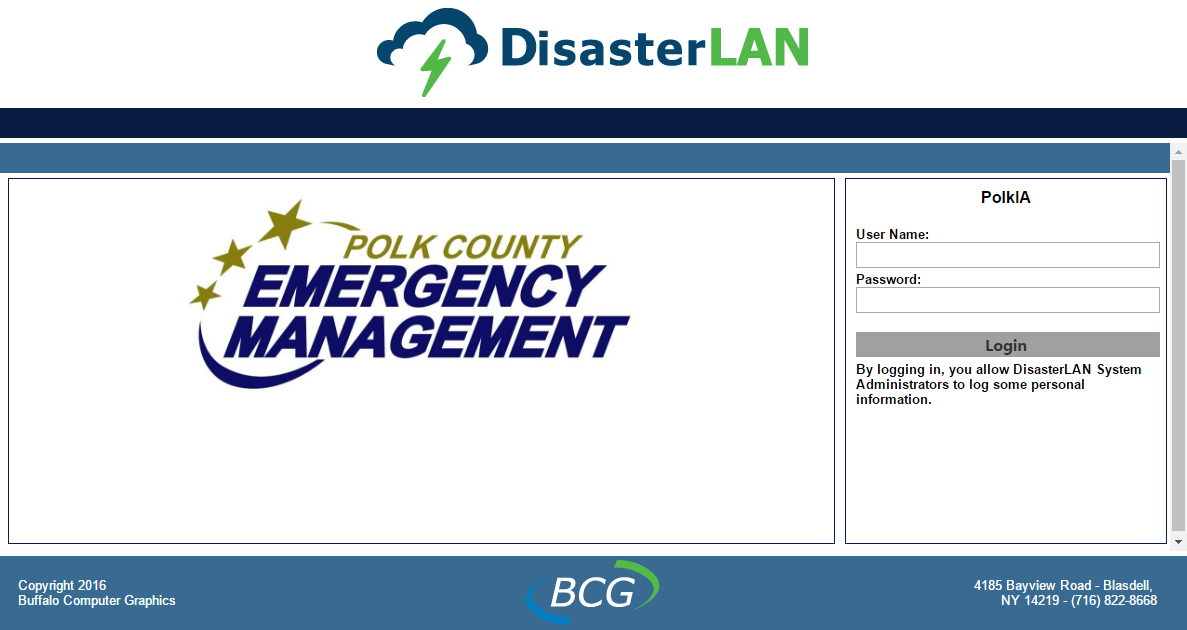 DLAN Login Screen
Polk County has used the DLAN system extensively since 2012 to improve coordination and communication amongst their own agencies and personnel during incidents, daily operations, and preplanned events.
The system provides situational awareness to not only those agencies in the county such as fire, police and public works departments, but allows people that may not be at the scene of the incident the ability to view what resources and planning process steps have been taken to mitigate the disaster - Cameron Stufflebeam, Polk County Emergency Management Agency