Template-Guided Incident Action Plans (IAP)
DLAN's Incident Action Plan (IAP) simplifies the planning process and speeds up document creation and distribution. DLAN aligns with FEMA's guidelines for IAP preparation, provides time-saving templates, and creates a central repository for IAPs.
The module includes all FEMA Incident Command System (ICS) forms. Healthcare Incident Command System (HICS) and Ontario Incident Management System (IMS) are also available. In addition, BCG can create customized forms for your organization, so you'll be able to tailor your forms to your unique needs.
How Our IAP Module Works
The module guides users through the steps of creating an IAP using simple drop-down lists, value pickers, and data validation. One of the key ways the module streamlines the IAP process is by allowing the use of templates for both IAP cover pages and the IAP itself. It also allows users to enter information that will be used in multiple areas of the IAP once and have it repopulate to other areas, eliminating duplicate data entry and reducing the chance of errors.
Many of our clients have further simplified the process by adding an IAP Builder Status Board with a side panel including instructions on how to fill out the necessary forms.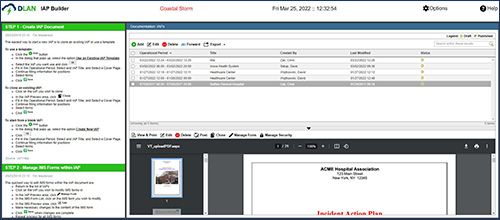 Incident Action Plan Builder
---
FEMA's Incident Command System (ICS) is used as the framework for all areas of our DLAN Incident Management Software. In addition to ICS forms and IAPs, DLAN will also help your team create Situation Reports and After-Action documents in line with FEMA's standards.
More About Our DLAN Software
DLAN goes far beyond just planning and reporting, it also improves emergency response efforts with task and mission management tools, such as our Ticket Manager and Mobile Responder App, and enhances situational awareness with our Status Board and GIS tools, DLAN provides a secure, unified, web-based solution for disaster management.
Learn more about how our software can help with your disaster/incident management. Demos are available upon request, or contact us to learn more.

Key Features
Streamlines IAP Process
Time Saving Templates
Standard and Custom ICS forms