BCG Receives $1.25 Million Contract to Navy Bridge Part Task Trainer (BPTT) Program
Thursday, October 10th, 2019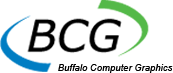 Buffalo Computer Graphics, Inc. (BCG), a leading maritime simulation provider, announces that it has been awarded a subcontract with a value of $1.25 million from Pinnacle Solutions, Inc. (Huntsville, AL) an Employee Owned Company, to support the U.S. Navy's Bridge Part Task Trainer Program. Under the contract, BCG will provide radar and communication simulation products in support of the Navy's continued focus on ship navigation training. Xebec, a Joint Venture (JV) consisting of Pinnacle Solutions, Inc. and CAE USA, will integrate the BCG simulation with other bridge subsystems to deliver a series of Littoral Combat Ship (LCS1 and LCS2) training systems.
BCG is proud to support Xebec and the US Navy in this effort.
About BCG Maritime Solutions
BCG develops and fields realistic simulation software and systems to support training and system testing for shipboard navigation systems. With a broad military and commercial customer base, BCG offers both COTS products and custom developed solutions that offer highly realistic simulation at an affordable cost point. BCG also provides superior support after the sale to ensure our customer's satisfaction.
For additional information on this project or any of BCG's Maritime Simulation Products, please contact BCG at 716-822-8668 or through our website – www.bcgsim.com.