DLAN Software Training
Buffalo Computer Graphics trainers are not just ICS-certified experts in the technical aspects of the system, but also in its applications in emergency management, healthcare, transportation, and academic settings All of our trainings are tailored to your specific organizational workflows and DLAN configuration. The training format includes a mixture of lectures and hands-on activities where students perform operations and exchange data with others using the DLAN software. Training can be delivered either virtually or at your facility. We can also provide one-on-one coaching, train the trainer sessions, custom training videos, and custom training documents.
Initial System Training
DLAN's user interface is simple and intuitive enough that users need very little training. Our initial system training typically includes a three step process designed to teach administrators and users all they need to know in order to begin using the system effectively: system configuration training, administrator training, and user training. For most implementations initial system training takes 1-2 days.
Basic User Training
End user training is designed to familiarize staff members with the basic features and tools available to them in DLAN. Typical lesson topics include login, viewing situational awareness information, creating and responding to tasks, and communicating with other users. Depending on which system modules have been purchased, basic users may also be trained to use the mobile app, interact with the GIS map, or add data with other tools. Additionally, basic training will show users how to use the system to perform their role or position effectively in a digital operations center environment.
Advanced User Training
Advanced User Training is designed to teach power users and managers how to take advantage of some of the more advanced and powerful features in the system. Typical lesson topics include running reports, managing situational awareness content, monitoring social media, organizing tasks, and exporting or emailing data to other stakeholders. Depending on which system modules have been purchased, advanced users may also be trained to create documents, reports, and plans.
Administration Training
Administrative training is designed to teach administrators how to create incidents, manage user accounts, reset passwords, manage roles, manage groups, and modify security permissions. Additionally, administrators are typically trained how to manage overall system configuration settings and populate default fields and drop-down menu choices such as categories, statuses, and priorities. Depending on which system modules have been purchased, administrators may also be trained to create new dashboards, build workflows, and design forms with which basic users will interact.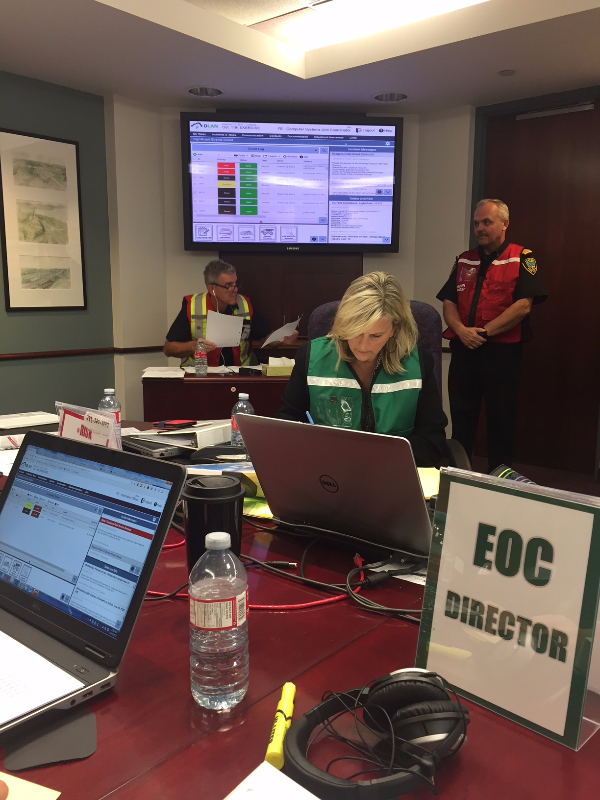 DLAN Exercise & User Training
Refresher Training
We recommend scheduling a refresher training each year to train new employees and keep current employees up-to-date on the latest DLAN features. Refresher training can be delivered in a typical lecture format or be scenario/exercise based.
Exercise Training and Support
Whenever possible, BCG likes to be involved in your training exercises and drills. We welcome the opportunity to participate in these activities while simultaneously serving as a resource. This ensures that we fully understand your operations, provides us the opportunity to ensure that DLAN is optimally configured for your operations, and gives you valuable access to our staff so that we can share our best practices experience with you. Learn more about our exercise support.
Emergency Just-In-Time Training
During an activation, BCG can provide additional "just-in-time" training as new team members are brought in to the response effort. BCG can also provide qualified and experienced emergency management teams and support staff during activations.
Position-Based Workshops
BCG offers role or position-based training for customers. These are hands-on trainings that guide users through the basics of performing their job duties within the DLAN software. Typically, these are short duration, focused trainings targeted at an ICS or Functional Position. Multiple position-based trainings can be completed during one training session. A BCG instructor will demonstrate how to perform a position specific task, such as how to create and distribute an Incident Action Plan document; then, students will be divided into groups and will work through the process of performing that task with supervision and input from the BCG trainer. Skills are evaluated based on the final outcome of activity. Sample options (not exhaustive) are listed below, custom position related trainings are also available.
(Operations) Mission and Task Assignment
(Finance) Incident Related Cost Tracking
(Logistics) Resource and Asset Management
(Planning) Incident Action Planning
(Planning) Situation Reporting
(GIS) Map and Dashboard Creation
(Command/General Staff) Workflow Creation
Additional Training
In conjunction with our business partners, BCG is able to offer a range of additional training services including:
All hazards training including hands-on, tabletop, & full-scale exercises
All hazards incident management team training and team building
Emergency Operations Center (EOC) training
Incident Command System (ICS) training
Intrastate - Interstate - International mutual-aid planning and training
Contact us with questions about the various training services offered by our experienced, ICS-certified team.