Build Your Own Exercises with DLAN's Intuitive Tools or Let BCG do the Work!
Exercises provide valuable planning, practice, and discussion opportunities for emergency managers. DisasterLAN (DLAN) is the perfect platform for facilitating an exercise with real-time injects that spark important discussions, prepare organizations for incidents, and provide staff with valuable experience. In addition to self-managed tools, BCG provides professional customized exercise support.
Building an exercise in DLAN involves following a basic blueprint. The first step is to develop an incident scenario and master event log. These will provide a structure for the exercise. Once a scenario is developed and a master event log is prepared you can easily create requests and reports in DLAN.
Exercises are run by creating two incidents: one for the simulation (sim) cell and one for the exercise that participants will log in to. Once the sim cell and exercise incidents are set up, ticket injects can be prepared, including resource requests following your exercise's master event log. Finally, items such as incident messages and slide shows can be prepared for the status board and used as injects during the exercise.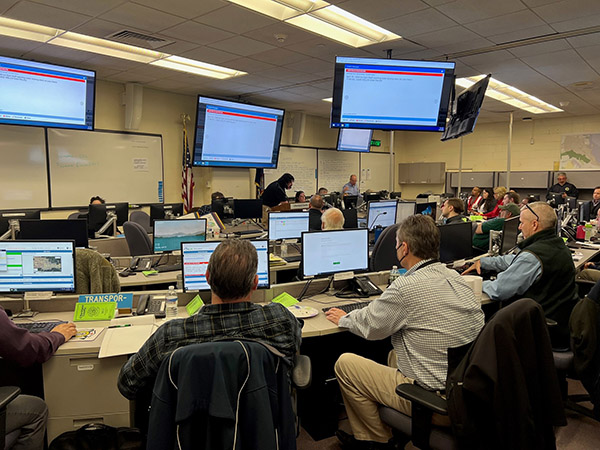 Once the incidents for the exercise are set up and the tickets and status board content are prepped, injects can flow from the sim cell incident into the exercise incident. Exercise participants can then view, discuss, and make updates to the tickets and other information in the exercise incident.
Building exercises in DLAN is an intuitive process with many features and capabilities. BCG, in conjunction with our partner network, also provides a wide range of professional emergency management exercise services from technical support for customers running their own tabletop exercises to providing fully managed simulated regional full-scale exercises. BCG can build, facilitate, participate in, observe, and evaluate exercises; this includes producing after-action reports and lessons learned for our customers. BCG can also provide just in time training and technical support for our DLAN software.

The team at Buffalo Computer Graphics has been instrumental in facilitating our growth and proficiency in utilizing the DisasterLAN software. The team's knowledge, expertise and presentation of software features has permitted us to build and secure the participation of our numerous response partners.
Christopher F. Jensen - Rockland County Office of Fire and Emergency Services