DLAN Easily Integrates External Sources: Steuben County Use Case
Thursday, March 4th, 2021

DLAN is designed to work with the tools your team uses every day. The system seamlessly converts external data into actionable items in DLAN. This means that staff members do not need to log directly into DLAN to input data. BCG's new Communication Center Rule Engine has further enhanced DLAN's capabilities by adding the ability to automatically organize and task information from external sources.
For example, Steuben County (NY) recently improved their equipment repair process using DLAN's new tools. Ken Forenz, Deputy Director and DLAN Administrator for Steuben County's Office of Emergency Services, needed a way to track, manage, and task request for equipment repairs. Since not all staff members making requests had a direct login to DLAN, an external web form was created to process requests.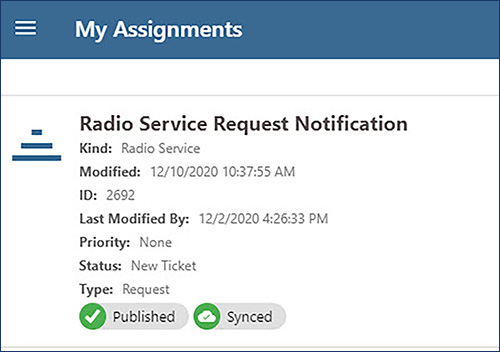 Request for Equipment Repairs
Forenz notes, DLAN Support "quickly identified the County's needs and worked with their engineers to incorporate a way to receive web-based service requests and have them auto generate into DLAN tickets."
DLAN's Com Center Rule Engine automatically classifies and posts repair requests to tickets. Tickets can then be tasked to technicians to perform the repair work. Using DLAN's Mobile Responder App, technicians can review and document repair work, even in remote areas with little or no cell service. The Mobile Responder App syncs this data with the original request in DLAN. The ticket can then be reviewed and completed by the department oversight team.
Since all of this information is tracked within the DLAN system, reports can easily be created on all information. For example, Steuben County created reports for most frequent repair types, number of monthly/annual repairs, and reports showing year-to-year changes in number of repairs.
The Communication Center Rule Engine is available as part of DLAN's Communication Center Premium. If you currently have this module, the rule engine is included as part of your 11.5.5 update. If you would like to learn more about the Communication Center Premium or Mobile Responder App modules, please contact your BCG representative.
Steuben County
Steuben County is located in New York State's Southern Tier and has a population of around 99,000. The Mission of Steuben County Emergency Services to: Use our training and knowledge, to effectively plan and prepare for the harmful effects of natural and manmade disasters; Guide and coordinate emergency response agencies in protecting those who live, travel and work in Steuben County; and Significantly reduce the amount of losses to the individuals, businesses and governments of Steuben County and alleviate the suffering associated with the disruption of daily routines.