DLAN Integrates with Ontario 511 for Improved Traffic Monitoring
Friday, June 24th, 2022

We have recently completed integration with Ontario 511 video services to provide additional streaming traffic camera options within our DLAN Incident Management Software. The integration allows Canadian users to view Ontario 511 cameras within video dashboards and on our GIS map.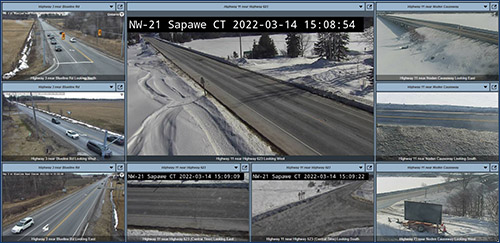 Ontario 511 Cameras on DLAN Streaming Video Dashboard
Ontario 511 includes over 1,000 traffic cameras with North, South, East, West views for complete situational awareness. Cameras are organized into folders by region for simplified filtering. Cameras can be viewed in our new and improved Streaming Video module, which includes customizable dashboards. They can also be viewed directly in our GIS map as a layer alongside other situational awareness data.
Contact us to learn more about these and other streaming video services