H5N1 Avian Influenza Preparedness, Prevention, and Response
Friday, May 19th, 2023

According to the World Health Organization (WHO) website, avian influenza normally spreads in birds but can also infect humans. Human infections are primarily acquired through direct contact with infected poultry or contaminated environments. While recently-identified avian influenza viruses do not currently transmit easily from person to person, the ongoing circulation of these viruses in poultry is concerning, as these viruses cause severe disease in humans and have the potential to mutate to become more contagious between people. WHO's Health Emergencies Programme therefore monitors human cases of avian influenza on an ongoing basis.

The avian flu outbreak, which began early last year, is the biggest in US history, affecting more than 58 million farmed birds in 47 states, as well as birds in the wild. It has already spilled over into mammals, such as mink, foxes, raccoons and bears, raising fears that the virus that causes it, known as H5N1, could mutate and start spreading more easily among people.
Experts at the Centers for Disease Control and Prevention (C.D.C.), say the risk of a pandemic is low. However, in the United States, the C.D.C., in partnership with state and local public health departments, is monitoring people who are exposed to H5N1. As of last week, the CDC reported the information above on their website.
At the same time, officials at the federal Agriculture Department, which is responsible for the health of farm animals, say they have begun testing potential poultry vaccines and initiated discussions with industry leaders about a large-scale avian flu vaccination program for poultry, which would be a first for the United States.
The Canadian Food Inspection Agency (CFIA) has advided the World Organization for Animal Health (WOAH) that the presence of N5H1 highly pathogenic avian influenza is present in Canada in estimated numbers represented in the table below. Stats as per inspection.canada.ca are updated once per week.
Province
Number of infected premises (current IPs)
Number of previously infected premises (released IPs)
Estimated number of birds impacted

(as of 2023-04-19)

Alberta
11
50
1,400,000
British Columbia
7
97
3,677,000
Manitoba
0
21
287,000
New Brunswick
1
1
Under 100
Newfoundland and Labrador
0
2
400
Nova Scotia
2
4
12,000
Ontario
7
40
849,000
Quebec
18
29
948,000
Saskatchewan
4
28
495,000

Total

50

272

7,667,000
Solution: DLAN's Custom Mobile Forms and Dashboards
DLAN is a secure, web-based emergency management system that provides tools for shared situational awareness, workflow-based information management, and real-time communication. For Avian Flu tracking, preparedness, response, and mitigation, DLAN utilizes custom data collection forms, which can include photos, electronic signatures, and GPS tracking. Information on current conditions can be entered and tracked regardless of their location, using the Mobile Responder App.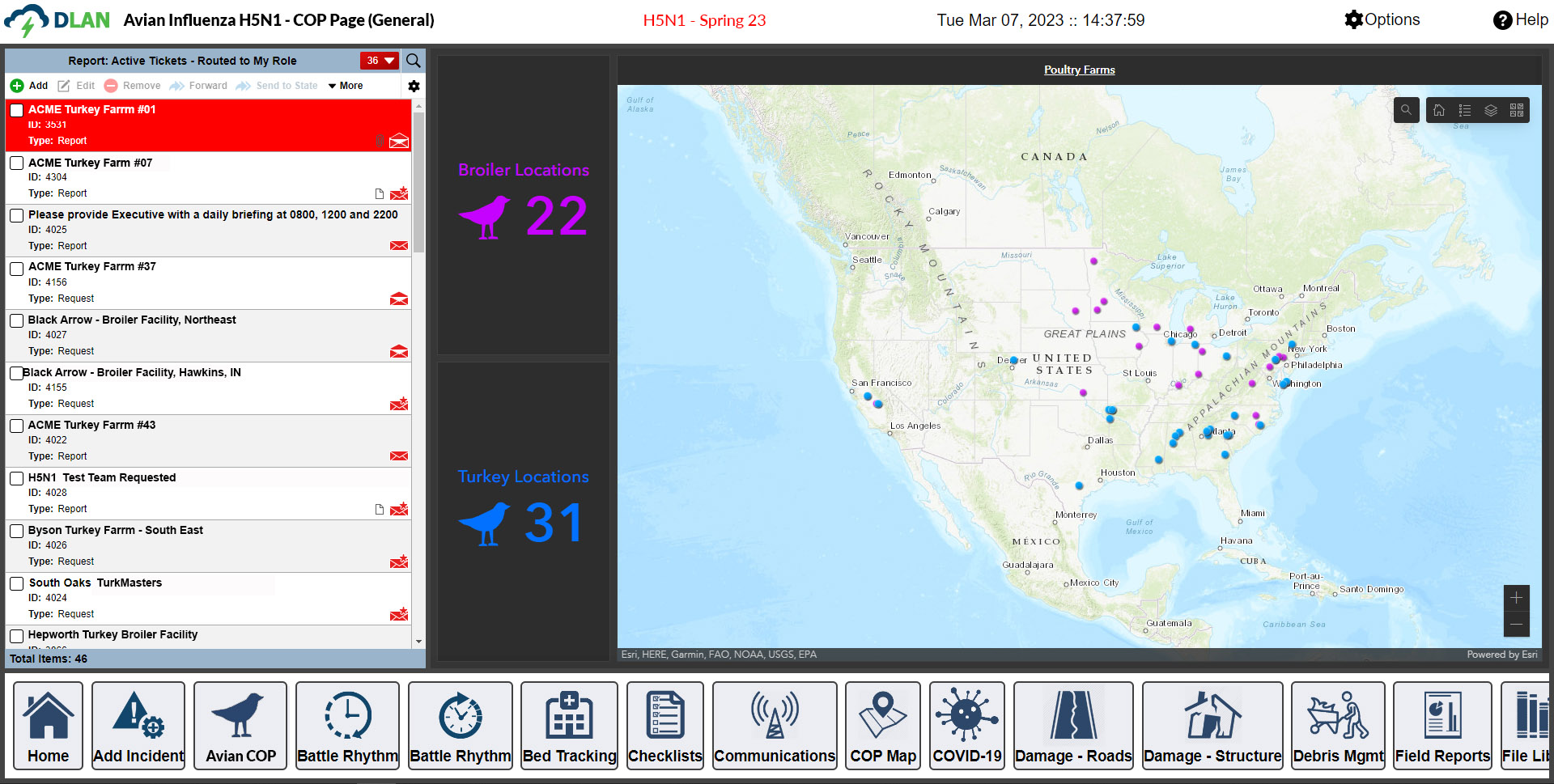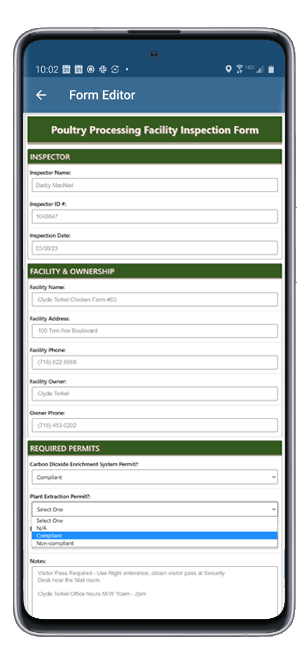 All this information can be tracked in aggregate to view which facilities/communities are at risk and which require attention. All information can be displayed in custom dashboards for improved situational awareness
Benefits of Using DLAN to help combat Avian Influenza
• Quickly deployable and cost effective App
• Real-time data collection / availability
• Integration with mass alerting
• Automated graphical statistical reporting via Operational Dashboards
• Executive Dashboards
• Customizable data collection form meets rapidly changing needs such as equipment & personnel tracking, field reports, culling & disposal
• Patient tracking, symptom tracking and community reporting
• Collect photos, electronic signatures, and GPS locations
• Centralized data collection / storage / exportable into Excel / CSV
• Secure web-based data access to only authorized roles
• Ability to track expenditures and running totals