Ticket Manager Premium
Ticket Manager Premium adds increased functionality and advanced customization features to the Ticket Manager. Ticket Manager Premium is included with DLAN Premium and can be added to any system as an option.
Custom Forms, Reports, & Templates
With Ticket Manager Premium, administrators get full access to the Ticket Manager administrative tools so that they can customize the system in many ways, including the ability to create unlimited summary or detailed ticket reports for decision makers and build unlimited bespoke forms for data collection. Using the customization features in Ticket Manager Premium, administrators can also give different roles access to different types of information within the Ticket Manager. This creates fully personalized views, workflows, and experiences for users. Additionally, customized reports and forms can be leveraged by the Mobile Responder App and Status Board Builder to provide increased functionality in those modules.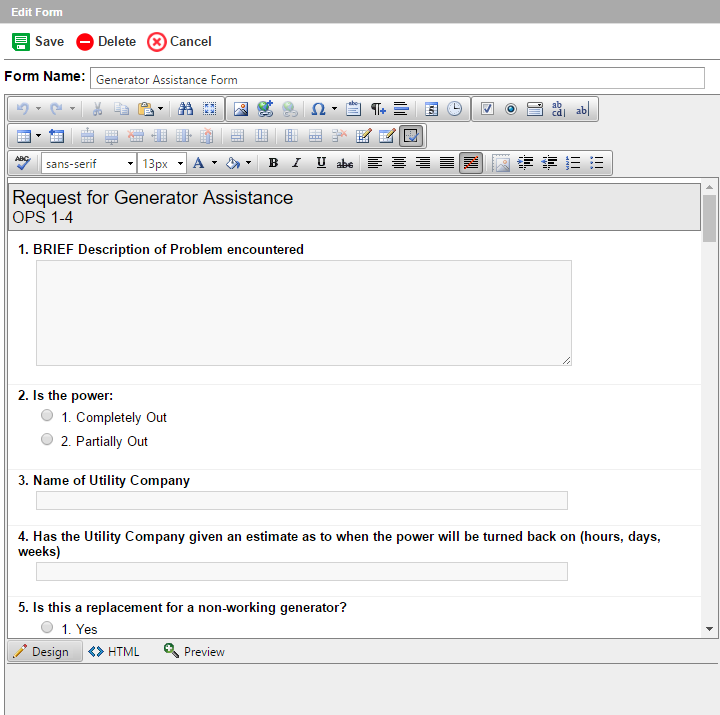 Custom Form Admin Settings
Automated Decision-Making Tools
Ticket Manager Premium supports automated decision-making tools for determining how to route tickets and data to the appropriate role on the system based on type, kind, and priority of information entered. Specific roles can also be notified about new or updated tickets using Email and Text Message notifications.
Status Workflow Mapping
Allows administrators to control the chain of statuses that a ticket must go through for improved workflows. For example, an administrator can say a ticket must go through the status "Approved by Finance" before it can be set to "Tasked." Administrators can set which statuses a ticket can move to once a ticket is in a particular status, which statuses can be used as initial statuses on a ticket, and which users are allowed to bypass workflow settings to move a ticket as needed.
Status & Priority Locking
This is another function designed to improve workflows. It gives administrators the ability to control which groups on the system can change a ticket's Status or Priority once it has been set to a particular value. For example, an administrator can set up status locking so that only someone from Logistics can work on a ticket once it has been set to "Needs Logistics Approval." Administrators can control which statuses and priorities are locked and choose whether the entire ticket or just the priority/status will be locked as "view only" to unauthorized users.
Preparedness Toolkit (Ticket Templates)
With the Preparedness Toolkit, users can create ticket templates associated with various types of incidents. Templates allow users to draft pre-planned actions, prepare initial log entries, setup predetermined priorities and statuses, set initial routings, prefill forms, and prepare other data that would be needed on a ticket of that type. Once created, templates can be posted to an incident anytime, allowing users to rapidly enter a new ticket into DLAN. This powerful feature can then be leveraged to assist with numerous EOC workflows including building tickets for repeatable exercises, pre-filling Mission Ready Packages, assisting Duty Officers in the entry of frequently entered tickets, creating task lists for different types of incidents, and pre-planning anticipated resource requests from critical facilities or jurisdictions.
Stakeholder Notifications (CC Function)
Stakeholder notifications are designed to improve situational awareness among individuals not directly responsible for working on a task or ticket, such as executives and outside agencies. It includes the ability to automatically share initial ticket information with internal and external staff. This helps to keep all essential personnel informed about requests, tasks, reports, or donations without needing to log into DLAN. This is especially useful for sharing information with stakeholders who do not have direct access to your DLAN system.
Packet Printing
Packet printing allows users to customize the style and content of tickets when they are printed. With this feature, users can reorder segments of a ticket (e.g. individual forms, individual attachments, contact sections) and choose which content to include when printed.

Quick Facts
Custom Forms, Reports, & Templates
Automated Decision-Making Tools
Preparedness Toolkit