Real-Time Situational Awareness Status Boards
DLAN's Status Board improves situational awareness by combining real-time information from multiple internal and external sources into an interactive dashboard.
DLAN reports and other internal content can be displayed as interactive panels, slideshow entries, or linked URL views. External data, such as ArcGIS, RSS, and Twitter feeds, can be displayed alongside DLAN data. This creates a unified area to view all relevant information, regardless of source.
The Status Board can be easily viewed on mobile devices, desktops, and projector/television displays. Users can choose from standard pre-configured boards, custom BCG created boards, or create their own boards using the Status Board Builder.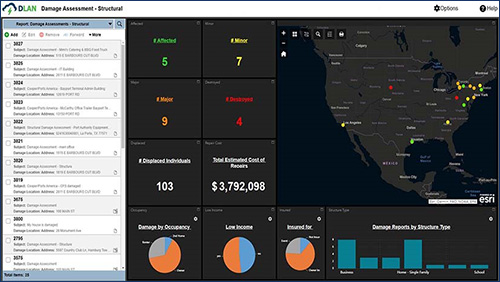 Status Board - Damage Assessment
The Status Board Builder adds advanced customization features to the Status Board. Intuitive building tools allow administrators to mix different data sources and display types into an unlimited number of custom dashboards, creating a truly customized experience.
Role-specific, group-based, region-based, incident-type, and executive level boards are frequently utilized. BCG is happy to provide examples and advice on creating boards to meet your organization's specific needs.
---
The Status Board is only one of the many tools available within the DLAN Emergency Management Solution. Other features include task management, asset tracking, and GIS mapping. Request a free demo today to see all the ways DLAN can improve situational awareness during both daily and emergency operations.

Key Features
Customizable Interactive Dashboards
Multiple Internal & External Data Sources
Role Specific & Incident Specific Options