Incident Asset & Personnel Tracking
DLAN's Asset Tracking helps you manage the full life cycle of your assets, before, during, and after a deployment. This includes vehicles, personal protective equipment (PPE), vehicles, auxiliary power kits, base camp supplies, contracted equipment, and anything else you might need to get from your warehouses or suppliers to field staff and disaster locations. Asset Tracking can also be used to track field staff using our Mobile Responder App.
Asset Tracking provides a digital asset inventory with the status, quantity, and location of all deployed assets for an incident or activation. Customizable asset reports can be viewed in an asset ledger, as part of dashboards, and as a GIS layer. Assets can even be added and edited directly in the map view. Assets connect directly to our Finance module for tracking costs and applying for reimbursements.
DLAN's Asset Tracking software provides real-time location tracking using our Mobile Responder App or other support asset tracking devices. For more information on supported devices please contact us.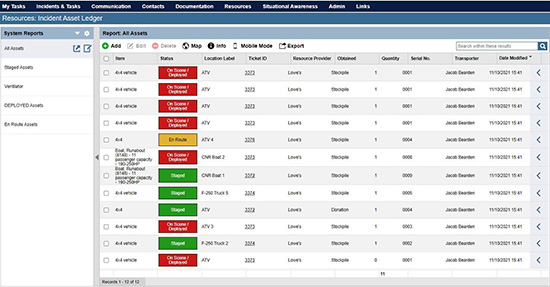 Asset Tracking Ledger
In addition to Asset Tracking, DLAN Disaster Management Software provides a wide range of tools for preparedness, response, and recovery. Schedule a free demo today to learn more.

Key Features
Track Deployed Resources & Assets
View in Asset Ledger, Dashboards, and Maps
Link to Asset & Personnel Tracking Devices