User-Friendly Task & Resource Management
Our DLAN Emergency Management Solution features real-time, collaborative task, resource, and information management. DLAN's Ticket Manager provides user-friendly data entry tools, such as custom color-coded statuses and priorities, to make sharing critical information quick and easy. Task and mission information can be entered, prioritized, routed/assigned, and tracked from start to completion.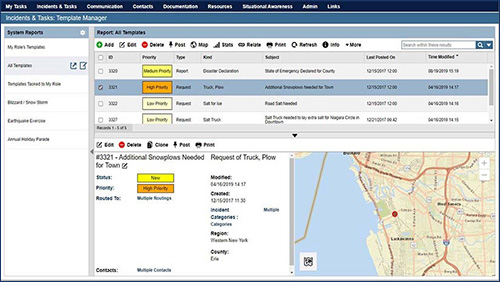 Ticket Manager
Each task is entered as a ticket in the system. Tickets follow FEMA's Incident Command System (ICS) recommendations for information management and can also be configured to fit your organization's workflows.
Forms can be added to tickets for detailed data entry for specific task types, for example a generator request, damage assessment, or shelter management form. These forms work both within the Ticket Manager and the Mobile Responder App, allowing for data entry from the field even when no connection is available. Standard forms are included and custom forms can be created either by BCG or using our premium administrative toolset.
DLAN's Ticket Manager fully integrates with our GIS Premium tools for full situational awareness. Ticket locations can be viewed on the map and reports can be used as layers. Both tickets and forms can be quickly added and edited directly from the map.
DLAN's Ticket Wizard further simplifies the data entry process by guiding users through a simple step-by-step question and answer process to ensure tickets are filled out completely and correctly. The feature is ideal for infrequent system users who may need more assistance.
Ticket reports can be displayed within the module and also as part of status boards. Standard reports are included and custom forms can be created either by BCG or using our premium administrative toolset. In addition to system wide reports, users can create their own reports to view filtered ticket information specific to their needs.
Ticket Manager Premium adds advanced customization features and increased functionality to the Ticket Manager. With Ticket Manager Premium, administrators gain full access to the module's administrative tools, so they can create custom forms, reports, templates, and workflows. It also unlocks a number of additional features such as automated decision-making ∓ notifications, the preparedness toolkit, ArcGIS Online Sync, status workflow mapping, and packet printing.
To learn more about these features and all the ways DLAN can help your team prepare for, respond to, and recovery from emergencies, request a free demo.

Key Features
User Friendly Task & Resource Tracking
Real-Time Collaboration
Custom Color-Coded Priorities & Statuses