DLAN 12.3 Features GIS, Phonebook, and IAP Enhancements
Tuesday, July 20th, 2021

DLAN 12.3 expands Phonebook & GIS integration, improves mini-map performance & functionality, and automates additional IAP functions. Together these enhancements make DLAN even easier to use and speed up data entry.
Expanded Phonebook & GIS Integration
Phonebook reports can now be set as permanent feature layers in ArcGIS. Feature layers will automatically synchronize with updated Phonebook data. GIS admins can see these new sharing options in the sharing tab on the report editors.
Improved Mini-Map Performance & Functionality
With 12.3, mini-maps in tickets, incidents, and other parts of DLAN now use the latest 4.X ArcGIS library. With this update, mini-map performance is greatly improved and map drawing is simpler to do with redesigned drawing tools.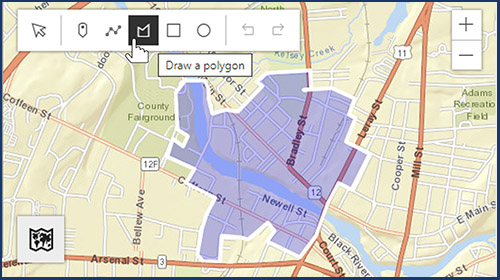 DLAN 12.3 Mini-Map
Automated Additional IAP Functions
The Organization Assignment List (ICS 203) and Communications List (ICS 205a) now automatically sync information with one another. Changes made to the staffing positions in the ICS 203 form will now automatically propagate over to the ICS 205A form. Similarly, updates made on the 205A will also be copied back onto the 203 where possible.