Manage Public Points of Distribution and Dispensing (PODs) with DLAN
Tuesday, November 10th, 2020

Opening and operating centralized locations where the public can pick up life sustaining commodities can be challenging. With Flu season upon us, distributing medical counter measures (MCMs) and health care related items such as: vaccines, antibiotics, or other medical items has become essential. As we come closer to releasing a vaccine for COVID-19, it is crucial to prepare for large scale vaccine distribution. DLAN has all the tools your team needs to address the issues of ordering and tracking POD supplies and collecting, aggregating, and displaying overall POD situational information.
Using DLAN's Mobile Responder App, POD personnel can quickly order supplies and report on operations. DLAN offers preset POD forms for POD supply orders and POD daily activity reporting. Forms can also be customized by DLAN Administrators to meet local needs.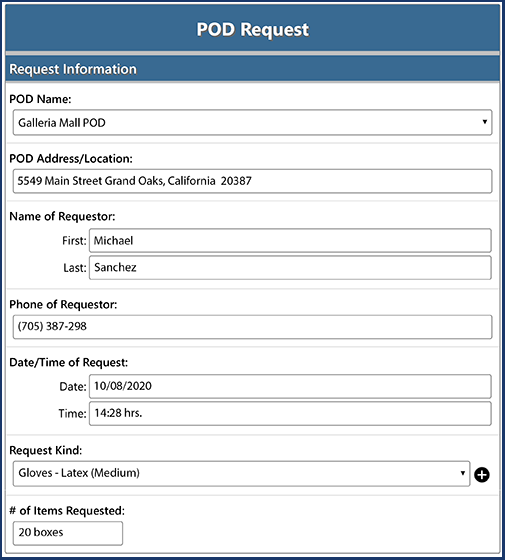 POD Order Form
Once entered into the system form data can be displayed in custom dashboards and task management reports. As an example, dashboards and reports can be created to facilitate management of POD orders and warehouse inventory. Dashboards and reports can also be created to display individual and aggregated POD activity benchmarks including number of patients treated, average wait time, staffing levels, and supply inventory levels. As with other areas of DLAN, all information is tracked to support post-event analysis and reporting.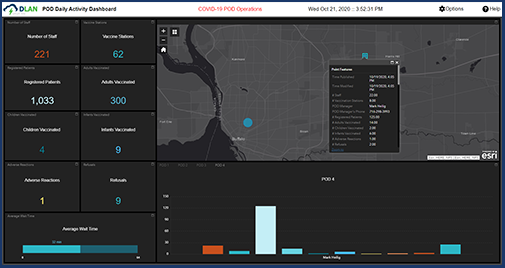 POD Activity Board
DLAN's POD Management tools will allow you to track dynamically changing inventory levels, match supplies to demand, and manage POD warehouses. With DLAN's mobile toolset, information can be entered from almost any device or location to facilitate data sharing between multiple geographical locations. DLAN's POD Management tools will improve overall situational awareness as related to POD supplies and activities. They will also ensure supplies get to where they are needed for effective vaccination distribution.
Contact BCG today to learn how your team can benefit from DLAN's new customizable POD management tools!