Trinidad Rancheria Implemented DLAN to Improve Emergency Response and Communications
Tuesday, August 17th, 2021

Buffalo Computer Graphics (BCG) is pleased to announce that the Cher-Ae Heights Indian Community of the Trinidad Rancheria (Trinidad Rancheria) has implemented DisasterLAN (DLAN) for emergency management and daily operations.
Trinidad Rancheria is made up of four geographically distinct parcels of land in Northern California. The area deals with all types of weather events and natural disasters, including earthquakes, wild fires, and tsunamis. Power outages are also a main concern for the tribe. When COVID-19 hit it became apparent that Trinidad Rancheria needed to ramp up their emergency management efforts and increase its capability to effectively respond to and confront the COVID- 19 initial and follow-on waves while responding to critical and day to day events as they maintain the health and safety of tribal members. The tribe worked with an outside consultant who recommended DLAN to meet their needs.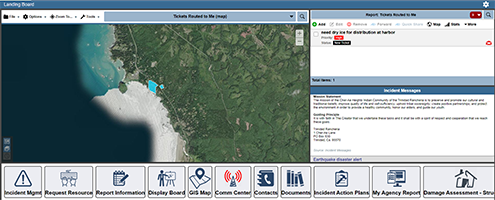 Trinidad Rancheria DLAN Landing Board
Trinidad Rancheria needed real-time communication and coordination, especially as Covid forced staff members to work remotely. Trinidad Rancheria does not have a dedicated Emergency Operations Center (EOC) team so response falls into the hand of tribal staff members whose main expertise is in other fields. For example, Leslie Sanders, Director of Transportation and Land Use, took over much of the response operations while also performing her main job functions.
Because everyone is wearing multiple hats, it was important to get a software product that was very intuitive. Sanders notes, "DLAN has been very easy to use. I have never been a huge fan of computers…however every time I have gone into DLAN I have realized how user-friendly it really is." This ease of use was essential to getting the tribe quickly trained and using the software.
Power outages and other connectivity issues can also be a problem. DLAN's Mobile Responder App allows the tribe to stay connected and input data even when offline. The system automatically syncs information as soon as a connection is reestablished, allowing staff to continue working regardless of the situation.
As the tribe continues to build out their emergency response capabilities, DLAN will be essential to their success. Sanders notes, "The capabilities it will provide us, whether it be for an emergency or just an incident that we all need to be aware of, is amazing" She believes DLAN will be able to do much more than just improve their response efforts, it will also improve overall communication among tribal leaders.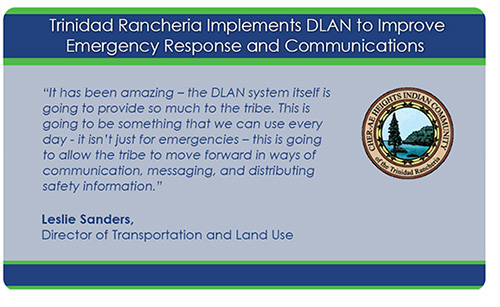 BCG will continue to work with Trinidad Rancheria to improve their emergency management response efforts and to expand its use in daily operations for inventory management and general communication. DLAN will help Trinidad Rancheria respond to current events and prepare for the future.
Cher-Ae Heights Community of the Trinidad Rancheria
The mission of the Cher-Ae Heights Indian Community of the Trinidad Rancheria is to preserve and promote their cultural and traditional beliefs; improve quality of life and self-sufficiency; uphold tribal sovereignty; create positive partnerships; and protect the environment in order to provide a healthy community, honor their elders, and guide their youth.