Mobile Responder
With DLAN's Mobile Responder App, emergency managers in the field can easily communicate essential information with each other and back to the EOC using their mobile devices. The App is designed for disaster area use and can function regardless of connectivity. The simple form interface makes the app ideal for damage assessment, debris management, and spot reports from field staff.
The Mobile Responder App allows field staff to work offline with any mobile form on their system as well as submit data and images back to DLAN. The App stores all report data locally on the device and automatically sends it to DLAN whenever connectivity is reestablished. This "store and forward" capability ensures data integrity and usability under the most adverse conditions.
Once a form is received by DLAN, it can be reviewed and posted to a ticket or submitted to the Risk & Resiliency Module. Alternatively, mobile forms received by DLAN can be posted to a ticket automatically based on business rules. This gives users the power to then run reports on damages, map locations, and assessment information and share it with interested parties within or outside of the EOC with no need for double data entry or phone calls.
The Mobile Responder App is included in our DLAN Advanced and Premium editions, as well as in all of our industry packs; it can also be added to any DLAN System as an option. The App can be downloaded for free from the Apple App Store and Google Play store; authorized DLAN credentials are necessary to use the App.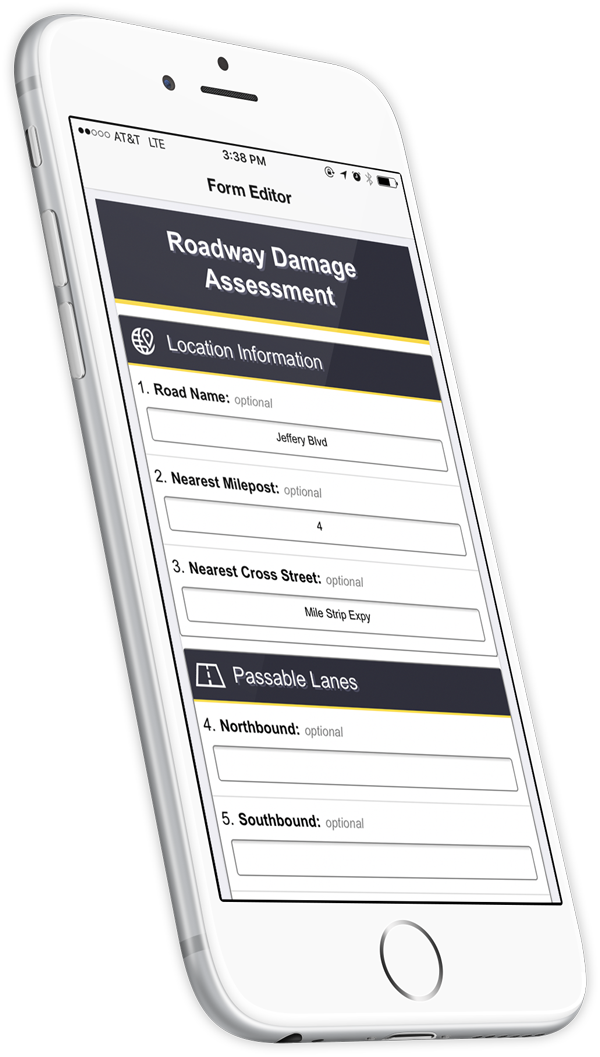 Damage Assessment Form
Google Play is a trademark of Google Inc. Apple and iPhone are trademarks of Apple Inc. Mac App Store is a a service mark of Apple Inc.

Quick Facts
Easy to Use Mobile Forms
Offline Functionality
iOS, Android, & Windows Compatible