Status Board Builder
The Status Board Builders adds further functionality to the Status Board. The main advantage of the Status Board Builder is that it allows administrators to build as many custom boards as desired.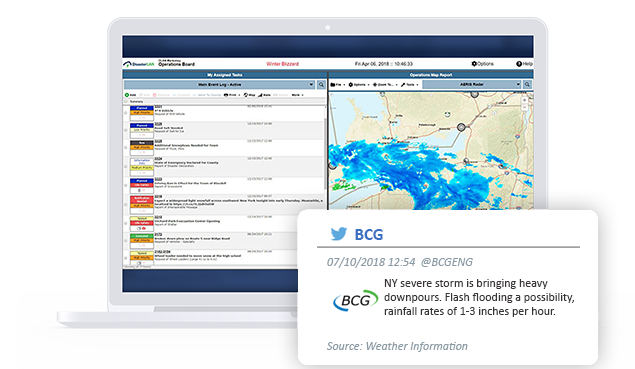 Status Board Builder with GIS Premium and Twitter
For example, many current DLAN clients create role-specific dashboards or group based boards, such as for a specific municipality or organization, and set them as the landing page/DLAN homepage for users in that role. This means that when these users login they can easily view and access information specific to their job functions.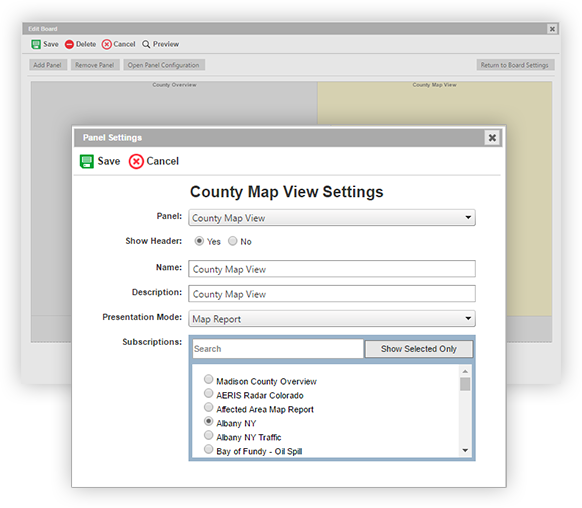 Status Board Layout Admin
Another common use is creating custom boards that display module reports, such as ticket reports, allowing users to interact with the system from a simplified dashboard interface that contains all the tools needed to perform their role or position.
Many subscription (data) types are available to populate each panel. Boards can also display user curated content such as critical decision messages. Boards can be created to display summary or detailed information from multiple incidents in one display. This mixture of different data sources and display types means the number of status boards an organization can make is practically endless, creating a truly customized experience.

Quick Facts
Unlimited Custom Dashboards
Role Specific & Incident Specific Options
Multiple Data Sources