Rockland County New York Utilizes DisasterLAN for EOC Exercise
Thursday, April 28th, 2022

Buffalo Computer Graphics (BCG) recently worked with Rockland County (New York) Fire and Emergency Services to run a full-scale emergency management exercise. The exercise scenario focused on a flooding event caused by heavy rain which lead to a dam breach and utilized BCG's DisasterLAN (DLAN) software to respond to the incident.
BCG staff wrote the scenario, injects, and other materials to create a realistic incident. DLAN's Ticket Manager was used to log, assign, and manage mock tasks and to view situational awareness information. DLAN's Status Board and Communication Center were also used as part of the exercise to provide realistic elements to help participants with decision making and planning. BCG provided just-in-time training and other technical support for the DLAN software. BCG also assisted with after-action reporting on the exercise.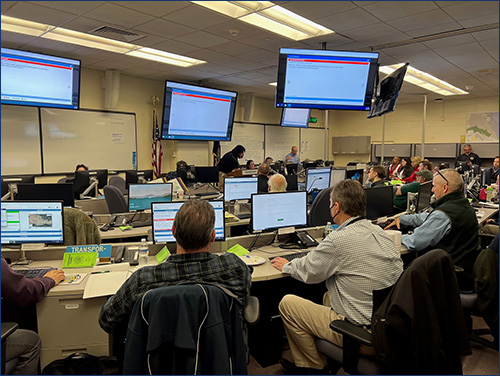 BCG Facilitates EOC Exercise
The exercise helped Rockland County staff prepare for an emergency activation, refamiliarizing them with both their response plans and the DLAN software. By using a realistic scenario, staff were able to gain hands on experience and knowledge of the particular role they would fill during a real activation.
"The team at Buffalo Computer Graphics did an exceptional job at preparing and facilitating our exercise. The team worked closely with the participants in solving issues and strengthening their skill sets." Christopher Jensen – Program Coordinator
Overall, the exercise successfully prepared staff to respond to an emergency incident utilizing their DLAN system.
Contact us to learn more about our exercise support programs