Quick Facts
Integrated Mapping Solution
User Friendly Mapping Tools
Fully ESRI Compatible
GIS Premium
The GIS Premium adds advanced mapping functionality, allowing users to fuse together geospatial information from virtually any external or internal source onto one common display. It is included as part of our Transportation Pack; it can also be added to any system as an optional module. There are three main benefits of DLAN's GIS system over similar products: interoperability, ease of use, and full integration with other DLAN modules.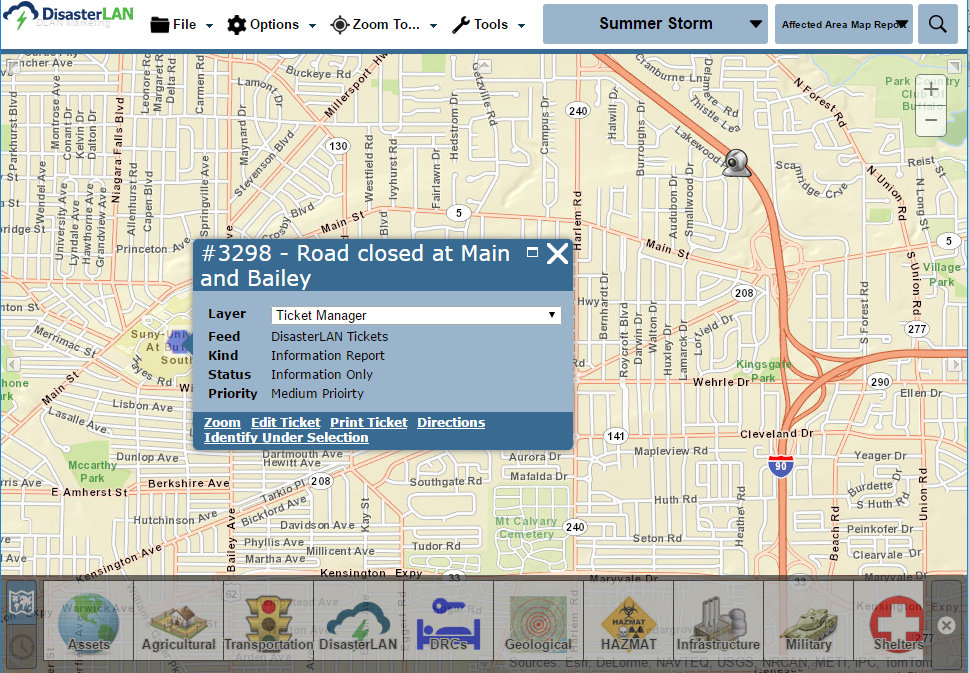 Interoperability
The GIS Premium supports the display of data from most common GIS formats out-of-the-box and unlike other solutions that require costly per-user accounts to a third-party GIS platform, DLAN's GIS Premium is accessible to all your DLAN users with no hidden fees. For example, the ArcGIS Sync tool allows users to take any Ticket Manager or Watch Command report and instantly convert it to a feature layer service on ArcGIS online. This means that Tickets tracking shelters, damages, donations, resources, road closures, and other work items can be sent to ArcGIS online in real-time as they change in DLAN. Any information included on that report (including any geographic data from addresses, coordinates, points, lines, and polygons) can then be instantly shared on ArcGIS online as layers in Public Dashboards, third party COP viewers, and other types of systems. For a full list of data sources, please see interoperability and integration.
Ease of Use
With the DLAN GIS Premium, anyone can reap the benefits that GIS mapping technology can offer. From an administrator's stand-point, DLAN's configuration tools make managing and adding new data sources or basemaps quick and easy. Data can be easily organized into categories that appear on a touch-friendly ribbon, making locating and toggling information on and off a snap, and data layers can be lock downed to select users.
User-friendly tools allow users to interact with underlying data. For example, tools for creating buffers based upon point features, polygons, or ALOHA plume models allow users to drill down and see information that is pertinent to the event at hand. Data can then be used to make decisions, and if desired, exported for use in other applications. The DLAN GIS Premium ensures that you are always viewing the latest information through DLAN's smart update technology.
Integrated Solution
In addition to incorporating key external data, the COP also displays data from other DLAN modules. For example, resource requests entered into the Ticket Manager appear on the map, as well as other reports and requests. Likewise, users can view video from traffic cameras entered into Streaming Video. All information within the GIS Premium can be shared with other users, exported, and printed.