DLAN 12.4 Enhances Task Management, AGO Integrations, and Multi-Jurisdictional Use
Thursday, December 2nd, 2021

BCG is proud to announce that DLAN version 12.4 is available for installation. DLAN 12.4 features improvements to the Ticket Manager, including the ability to create a ticket directly from a form. It also extends AGO sharing abilities in the Ticket Manager, Assets, and Phonebook Premium Assessments. Additionally, Incident Action Plans now include the ability to create single ICS forms as well as full IAPs, expediting the process. Finally, DLAN 12.4 includes a number of new security features to enhance multi-jurisdictional use.
Ticket Manager Enhancements
DLAN 12.4 brings users exciting new Ticket Manager features. Workflow enhancements simplify the process of filling out forms from the field by allowing users to create tickets directly from a form. Also, page loading times in the Ticket Manager have been substantial improved.
AGO Sharing Abilities
The new release allows ESRI experience builder applications to be embedded in DLAN pages. This gives users another powerful way to visualize Ticket Manager, Asset, and Assessment data in real-time using the power of ArcGIS Online.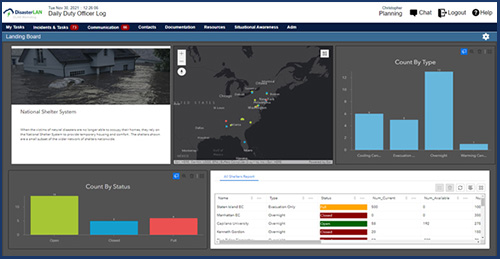 DLAN - AGO Sharing
The combination of these toolset will allow DLAN users to have a simpler yet more powerful toolset when working with Dynamic Forms, Resource Tracking, Risk Assessments and other processes.
Expedited ICS forms through Incident Action Plan module
ICS forms can now use all the same functionality available in the IAP builder, including templates. This expediates the ICS form process.
Regional Security Engine
Also included in DLAN 12.4 is a brand-new Regional Security engine that allows multi-jurisdictional customers to break out the administration of users, groups, and roles to the jurisdictions that make up the users on the system. These tools allow administrators to create new security items that are managed by their locality or agency, to be used by other sets of users on the system.
Combined with improvements in Single Sign On, Two Factor Authentication, and Incident Ownership, the new regional security improvements make it much easier for multiple agencies to work together in a shared environment.