New DLAN 14 Features Fully Revamped GIS Platform
Thursday, July 7th, 2022

BCG is excited to announce the release of DLAN 14. Our newest release includes updates to the Phonebook, Assets, Communication Center, and Ticket Manager. However, the star of this release is the all new GIS Premium.
The new GIS platform improves speed and performance, adds advanced drawing tools, and generally gives you more control of how you view, work with, and report on geospatial data. The map includes all of the features previously available and a number of new features, including more robust searching, enhanced drawing tools and improved icon use.
In general, users can choose exactly what they view and how they view it. Users can choose between light and dark modes or even fully customize the display color scheme. Panels can be pinned/unpinned and moved around. New robust search tools allow users to filter down to just the information they need, including the ability to search within the content of a feed.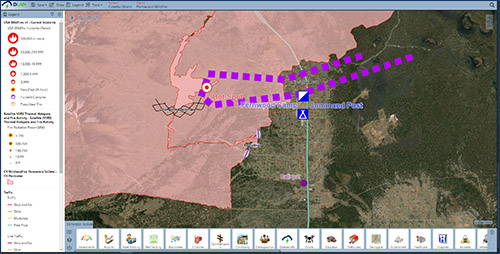 DLAN GIS Premium
The new GIS platform also adds and improves integration with other DLAN modules. It streamlines the ability to add/edit tickets from the map and adds the ability to do the same with assets. In the Status Board, interactive maps will filter to information selected in other status board panels. For example, if you select a ticket in a ticket report, the map will also zoom to that ticket location.
Learn more about DLAN 14's new features and see how these new features can improve your disaster response. Contact us for more information.