DLAN Year in Review: 2021
Wednesday, December 15th, 2021

As we close out 2021, we would like to take some time to look back on all we have accomplished with the help of our DLAN community.
In 2021, we developed 4 major DLAN releases, added several members to the DLAN team, and increased our DLAN footprint, including adding a number of new West Coast clients.
---
Below are a few highlights from our new feature list.
Fresh Design for Ticket Manager, Watch Command, and Phonebook Premium Modules
The Ticket Manager, Watch Command, and Phonebook Premium (which includes Assessments) modules were enhanced with new responsive interfaces that better support mobile usage, powerful new report generators with advanced filtering options, and new alert settings that make it easier to see changes that impact your role.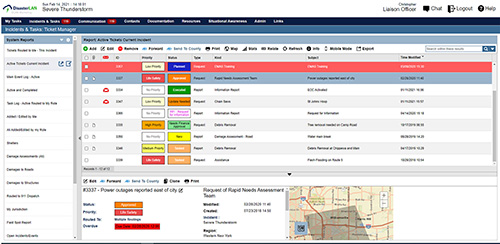 Ticket Manager
Ticket Manager Simple Form Entry
In addition to the new design and report generator, we also added the ability to create new tickets using a form, speeding up the form entry process. For example, instead of creating a damage assessment ticket and then adding a damage assessment form, a user can just fill in a damage assessment form and a new ticket will automatically be generated and added to reports etc.
Communication Center Rule Engine
The Communication Center Rule Engine helps users quickly triage important emails. It allows users to setup rules keyed to particular senders or embedded with particular content. Once created, these rules define how content of that type will be handled when posted to a ticket, including allowing for matching emails to be automatically posted to particular incidents, routings, and ticket types. These capabilities give watch centers, duty officers, and other staff a better way to deal with the deluge of intelligence that is received on a daily basis.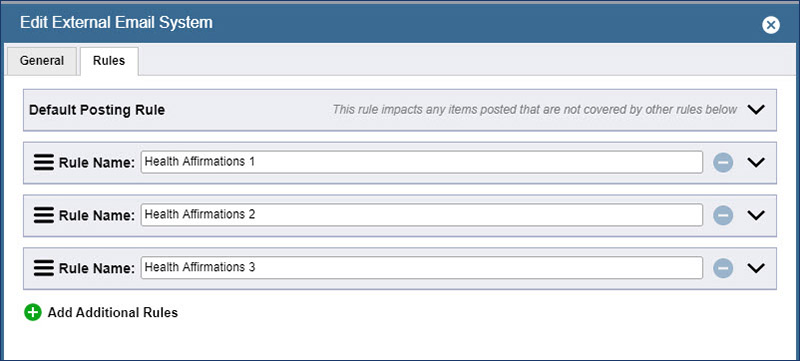 Communication Center Email Rule Engine
Improved Mapping Capabilities
DLAN now includes even more ways to view information from within the system as layers on maps, including automatically creating GIS layers based on system driven reports for modules such as Ticket Manager, Asset Tracking, and Phonebook. Additional AERIS Weather premium content is now available for use within GIS Premium.
ArcGIS Online has been further integrated into DLAN and information can be viewed on both the map and dashboards. DLAN also includes additional support for ArcGIS Experience Builder apps in the Status Board.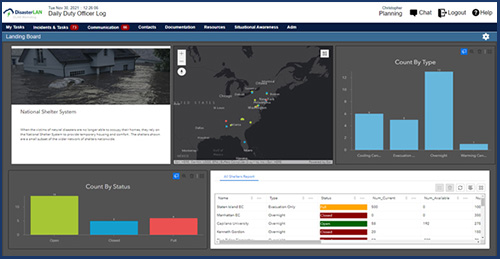 AGO Sharing
Streaming Video Custom Dashboards and Skyline Support
Streaming Video now includes new custom dashboard tools, including the ability to hide buttons and labels. Additionally, Streaming Video now has built-in support for Skyline Webcams. This integration adds numerous live video streams from around the globe to DLAN's already robust video streaming services.
Incident Action Plan Automation and ICS Form Builder
DLAN now automatically syncs information between The Organization Assignment List (ICS 203) and Communications List (ICS 205a). Changes made to the staffing positions in the ICS 203 form will now automatically propagate over to the ICS 205A form. Similarly, updates made on the 205A will also be copied back onto the 203 where possible.
DLAN also includes the ability to fill in a single ICS form from within the IAP module, as opposed to including them in a full IAP.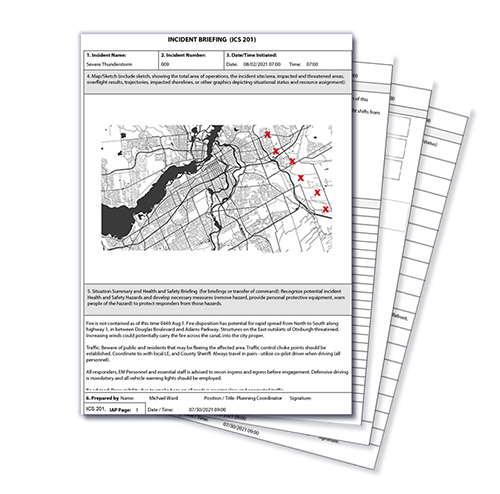 ICS Form Builder
---
We could not have accomplished all of this without the feedback and contributions of the DLAN community. We would like to thank all of our customers for their continued support. We would also like to thank the DLAN Team for all their hard work this year.
We hope that 2022 will be an even better year. We will soon be unveiling major enhancements to our GIS, Mass Alerting, and Chat modules, as well as introducing new short-term housing/sheltering features. We look forward to sharing these new features with you.