DLAN - Situation Report
Situation Reports (Sit Reps) are another integral part of a proper emergency management response in line with FEMA guidelines. DLAN's Situation Report module is designed to allow users to create and track reporting periods and generate one or more situation report(s) for each period faster and more simply than building them manually from disparate agency reports.
DLAN sends out an automatic Email reminder when a user's agency report is due, so users know when they need to submit information. DLAN includes the ability to export situation reports to Microsoft Word, edit it offline, and import it back into DLAN. Multiple versions of each report can also be created for different audiences, allowing users to choose which information is included for each audience, protecting sensitive information.
Like other areas of DLAN, the Situation Report module works off of templates. Templates are a quick and easy way to configure default text on templates within the report as well as manage which agencies/roles are responsible for filling out which Situation Reports. Furthermore, templates allow an administrator to utilize one common Situation Report form and distribute a copy with the appropriate agency name to each group. This standardizes the type of information collected, reduces the burden of distributing copies to everyone involved, and cleanly tracks the status of each Report handled by DLAN.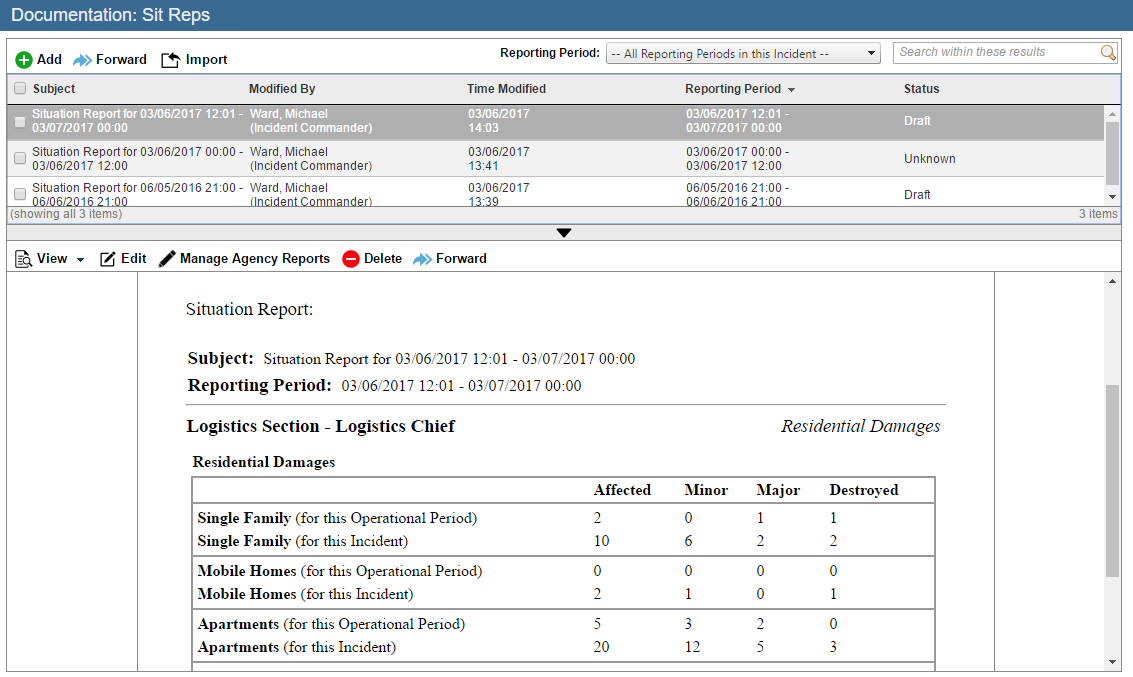 Situation Report Preview Panel
The Situation Report can be configured for a standard template workflow or a roll-up template workflow. With the standard template workflow each agency responsible for completing an agency report will use the standard agency report template. Those agency reports will then be reviewed by the Situation Report administrative staff and compiled into a final situation report. Alternatively, roll-up templates are designed to support a multi- tiered workflow structure where agency level users submit their agency reports to a branch manager who incorporates and summarizes the agency level reports. The branch manager then submits his or her branch level report to a Situation Report administrator who compiles and summarizes the branch level reports and publishes them in the final Sit Rep.
Administrators can use DLAN dynamic forms to create question based report templates in published situation reports. ICS/IMS forms can also be included as part of an Agency Report to be included in Situation Reports. Situation Report administrators can layout their own agency form templates, assign them to individual roles, and incorporate completed templates in reports that are published to different stakeholders. This allows Planning Sections to more tightly control content that is completed by assigned roles in the system, allowing for users to more quickly complete situation reports in a consistent manner.
By automating many of the tasks traditionally performed during the situation report creation process, the time required to create situation reports is greatly reduced. All situation reports are linked to the incident and can be included in after- action reporting.

Quick Facts
Choice of Standard or Roll-Up Template Workflow
Question Based Report Templates
Offline Editing Option